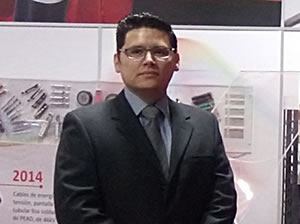 Gerardo Monreal
WAI Member since 2016
"WAI is the way to go out and make things happen, to grow, to compete, to compare, to foresee what you are missing and what you are not." - Gerardo Monreal
Q: What does your company do? A: Viakable is dedicated to the commercialization and manufacturing of electrical conductors power for more than 60 years. It directs its talent and technology to meet the most demanding industry requirements regarding transmission and distribution of electricity.
Q: What is your role there? A: I lead the power cable process engineering area. I am an agent of change and continuous improvement, always pursuing best practices in order to overcome obstacles and achieving goals. I get to be a great team player and strategist in order to keep my team focused and motivated while stress is thriving.
Q: What do you like best about your position? A: It gives me the opportunity to show dynamic leadership though innovation and coaching. And I get to interface with all core departments, which means that every project and every decision this company makes will have my fingerprint on it.
Q: How has your industry most changed? A: Customers are demanding the best and the most flexible partner which means shorter lengths, customized products and customized packaging as well as other attributes that implies a better product and the best performance.
Q: How does your company remain competitive? A: Viakable companies are strategically located to address important markets of the world. It has remained competitive through R&D of new products and features for meeting current and future needs of our customers and anticipate the technological demands of tomorrow.