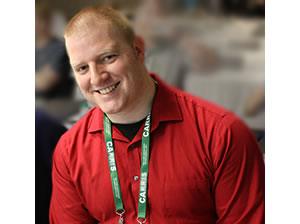 Justin Werley
WAI Member since 2017
"When a few of my co-workers—who were already WAI members—suggested that I too become one, it seemed like a natural opportunity for career development and continued growth." - Justin Werley
Q: What does your company do? A: East Penn Manufacturing, a private, family-owned company, operates the largest single-site, lead acid battery manufacturing facility in the world. It also produces premium wire, cable and battery accessory products.
Q: What is your role there? A: The wire department has drawing, bunching and extrusion. As a leader of those three areas, I make sure that all of the products made during these processes meet East Penn and industry standards.
Q: What do you like best about your position? A: That it allows me to see all aspects of the wire and cable division. I am able to experience how all the downstream processes are affected by how well the drawing, bunching and extrusion processes are done.
Q: How has your industry most changed? A: Customers expect shorter lead times and a larger array of products than ever before.
Q: How does your company remain competitive? A: East Penn always strives to be on the cutting edge of innovation. I believe our customers know that we work hard to provide them a quality product, and that's important. The working relationships that exists—from machine operators, supervisors, leaders, plant management and sales, all the way up to our executive management team—are all part of our customer's experience.